Measuring Growth Rate of Coral Micro fragments using Polyga C210
People often ask us, "Who uses your scanner?". On a recent interview with Eugene Liscio from Ai2-3D, we mentioned that most of our targets are researchers and engineers. We have a lot of researchers, scientists, and even archeologists who used our scanners for research programs. One of the most recent was measuring the growth rate of coral micro fragments for coral reef restoration.
Mote Marine Laboratory, a nonprofit, marine research organization based in Florida, developed a workflow for growth rate quantification of live micro fragmented corals using our Polyga C210, a structured-light 3D scanner to assess surface area (SA) measurements of live tissue over time.
Microfragmentation, an asexual propagation technique, is used to produce large numbers of corals for research and restoration. 3D scanning has greater accuracy, making it a better tool for restoration researchers conducting experiments, meta-analyses, and syntheses. Furthermore, 3D scanning has the capacity to provide more accurate surface area measurements for rugose, mounding, or complex colony shapes. Thus, using Polyga C210 is a great tool to measure the growth rates of live micro fragments. It is a non-contact, non-destructive technology that uses light projection to capture the shape and size of physical objects and produce a full digital 3D model of them.
The Compact C210 is a durable scanner suitable for working in wet laboratory environments. The scanner LED structured-light technology contains a pair of 2-megapixel cameras with an accuracy of up to 35 microns. The light source projects a series of patterns onto the target with a field of view of 98 x 71 to 154 x 100 mm. With this, it effectively captures scans of corals ranging from small micro fragments to larger fragments. In addition, FlexScan3D was used for automated post-processing which includes cleaning, alignment, merging, and hole-filling.
The below figure is the general workflow for obtaining measurements of live micro fragments using Polyga C210.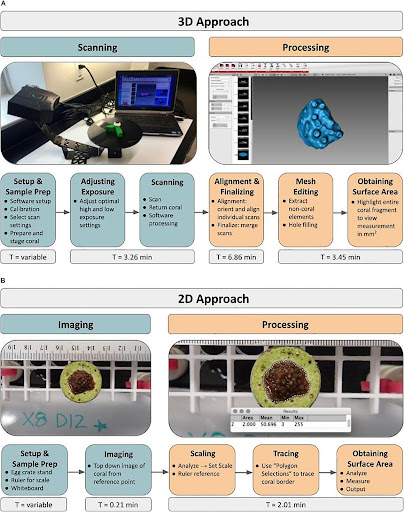 FlexScan3D
FlexScan was used to align scan samples using the mesh geometry of the scans. The use of the custom stand with distinct asymmetrical geometry resulted in more successful alignment during this step when compared to the alignment of scans without the stand.
3D is a reliable method to obtain accurate measurements of the surface area of coral micro fragments when compared to 2D photography. For more details, visit www.polyga.com or email us at contact@polyga.com
Reference: https://www.frontiersin.org/articles/10.3389/fmars.2021.623645/full