SBSDK Quickstart Guide
Introduction
The SBSDK allows to use HDI Compact Series via C++/C# programming language.
Various Device Support

TriggerBox 2.0
Compact L Series
Compact S Series
Compact C Series

Device Control

Live Video
Camera Exposure
Projector Brightness
Scan & HDR Scan

Export data
---
Getting Started
Download SBSDK
Please email support@polyga.com to get access to the SDK added to your account.
Supported IDE
Build SBSDK Examples
Example Projects can be found in the SBSDK package.
Open the solution with Visual Studio and build it.
(Example Projects will copy the required DLL binaries from external & sbsdk folder on building it. Please make sure to copy the dependencies to your project when you build your own.)
Dependencies on using SBSDK
Please make sure that below DLLs are located with your exe file. This DLLs can be found in "sbsdk" and "external" folder.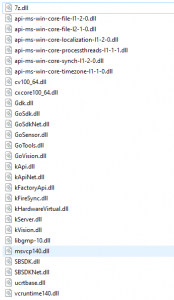 Included Examples
Simple GUI Example
Scan & Fast Scan Examples
Rotary Scan Example
---
Tech Support
For any technical support regarding SBSDK, please contact support@polyga.com