3D Face Scan: Scanning Different Facial Expressions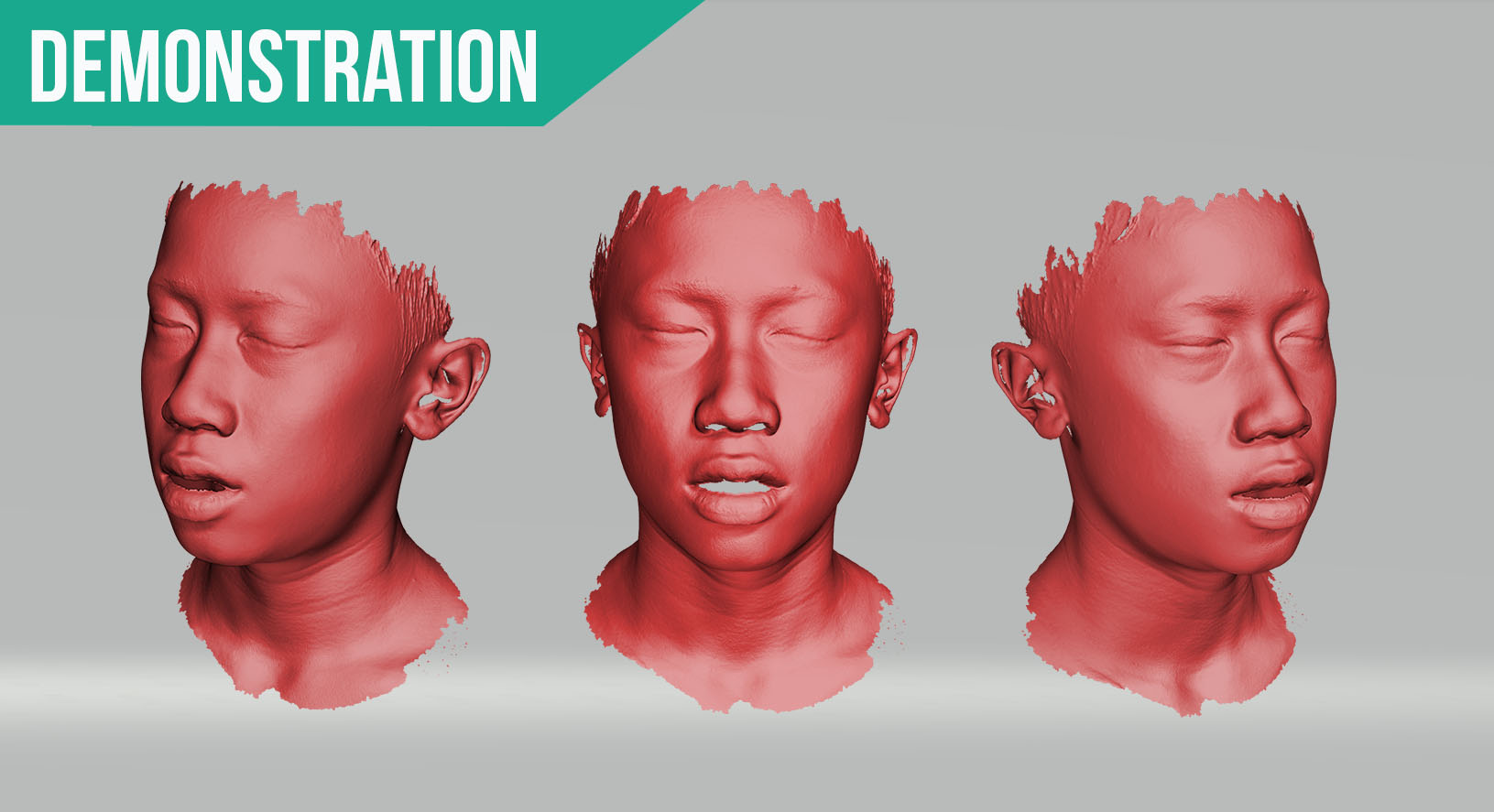 Introduction
In recent years, 3D scanning and structured light scanning technology has witnessed a remarkable surge in popularity, driven by its diverse applications and the ever-evolving capabilities of digital imaging. Its rise to prominence can be attributed it's high accuracy and to its role in revolutionizing various industries, such as healthcare, entertainment, and security.
A 3D face scanner finds its application in medicine and dentistry. While a traditional image camera can only capture photos and images in a single dimension; 3D face scanning has proven invaluable for personalized healthcare solutions, enabling the creation of patient specific custom-fitted prosthetics and aiding in the diagnosis and treatment planning of facial abnormalities. This includes facial recognition, capturing facial emotions, facial cosmetic planning & surgery, and maxillofacial rehabilitation.
Furthermore, face scans have a crucial role in biometrics and security systems; making it a pivotal tool for identity verification and user access control.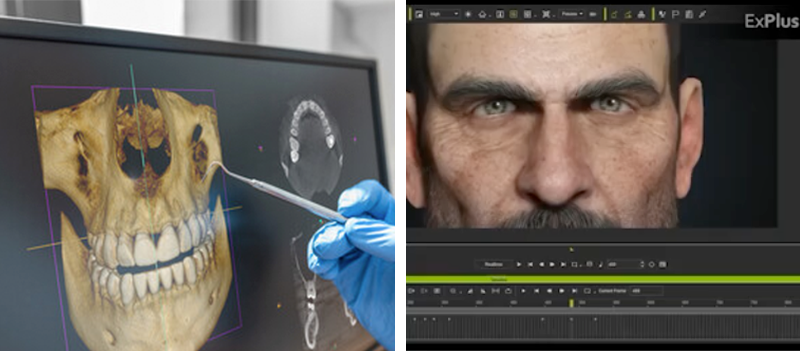 In entertainment, it has enhanced the realism of computer-generated photo realistic characters in movies and video games, elevating the immersive experience for audiences. If an actor, model or background set cannot be present for a shoot, users can search a collection of image assets and download the scan likeness for easy compositing if the subject has been previously saved.
The gradual displacement of traditional photos and images by 3D scanning and structured light scanning is an inevitable evolution in the world of visual content creation. While traditional photography has been the dominant medium for capturing and preserving moments for well over a century, 3D scanning process offers a transformative leap in the way we document and interact with our environment.
3D scanning not only captures the surface appearance but also the geometry and depth of objects and scenes, providing a more comprehensive representation of the real world. As 3D scanning technology continues to advance and becomes more accessible, it is poised to redefine the visual landscape, gradually phasing out conventional photography and enabling us to experience the world in a richer and more interactive manner. In the future there is a possibility that we will look at photos or images as an antiquated technology; 3D scan photos will have become the new image standard.
Challenge
We wanted to demonstrate the photo high resolution 3D image capabilities of the 3D scanning technology. We tested a pair of polyga Compact 3D scanners, the L6 to see what scan results we could achieve. As tempting as it is to search out a free 3D scanning app and download onto our mobile phones we wanted to capture photo realistic details and texture features; the L6 being an industrial-grade high accuracy 3D scanner capable of generating scan data with a scan accuracy of up to 80 microns. It also produces the largest field of view out of all the Polyga 3D scanners. The below demonstration of the scanning process intends to scan the detailed geometry of a human face portraying a collect data of different expressions.
3D Scanner Setup
Two Compact L6's were positioned such that both sides of the human face to capture the fine details in high resolution. FlexScan3D, our mesh processing software was connected to both 3D scanners and process the captured scan data. Using the scan 3D scan application FlexScan3D, it is easily possible to connect two 3D scanners simultaneously for similar applications. The scans were captured and aligned automatically in FlexScan3D in under a few seconds. It is important to keep in mind that while setting up the scanners, an overlap in the geometry to be captured is necessary in order for the resulting scans to automatically align the three dimensional object.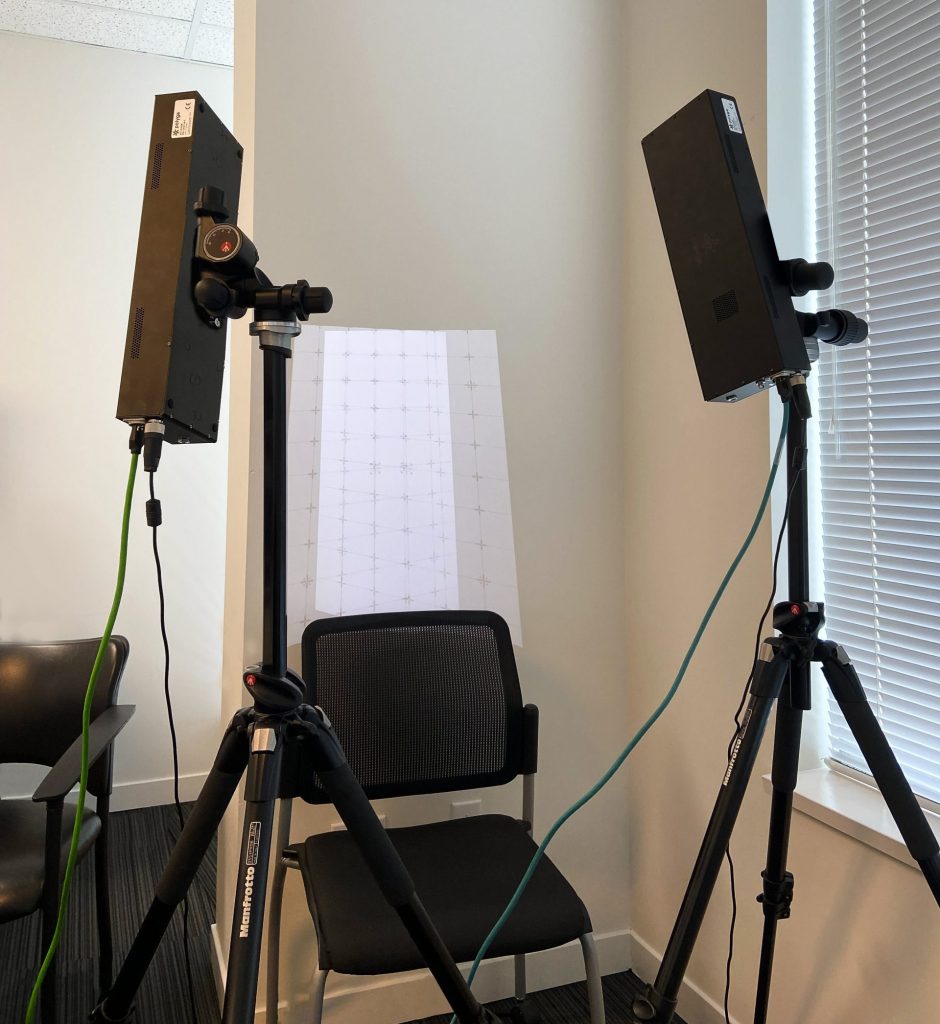 3D Face Scan Results
For this study, we captured 5 expressions, and here are the results:
A Straight Face Scan
A Smiling Face Scan
A Laughing Face Scan
A Sad Face Scan
A Distaste Face Scan

A Straight Face Scan

A Smiling Face Scan

A Laughing Face Scan

A Sad Face Scan

A Distaste Face Scan

Outcome
It took a couple of seconds for the Compact L6's to capture a digital representation of each of these expressions with amazing scan accuracy. In addition, FlexScan3D took about 15 seconds for the whole process to generate the mesh from the captured images. Using FlexScan3D, the scan results can be exported in popular mesh file formats, such as .stl, .obj and .ply. With our SDK, it is also possible for users to build their own custom scanning applications or scan processing workflow to further optimize this process.
Here's a video of the process of generating and aligning the scans:
Conclusion
With the results that we were able to achieve using the Compact L6, it was evident that the accuracy and the level of detail were far more accurate than the traditional techniques. The speed at which the L6 is able to capture the real world object proves that the 3D scanning can be used for medical applications where accuracy is critical such as for maxillofacial surgeries.
We hope that this article is helpful to you on your 3D scanning journey.
And, if you have any other questions about what type of scanner is right for your project,
feel free to send them to our sales team at sales@polyga.com, and they will be happy to help.

Polyga Team
Polyga Inc.
Vancouver, British Columbia, Canada
Email: contact@polyga.com
Website: Polyga.com