Measure With Freedom With Polyga's New Handheld Portable CMM MeasureXL
MeasureXL 3D measurement system uses wireless optical probing technology for taking accurate measurements fast—even for large objects
Vancouver, British Columbia (October 23, 2019) – Polyga Inc., a developer of professional 3D scanning and mesh processing technologies, today announces the launch of the company's first optical coordinate measuring machine (CMM), MeasureXL. The 3D measurement system makes it simple to set up and quickly probe 3D measurement points off the contours of a part.
MeasureXL consists of a wireless probe and a factory-calibrated optical tracker for an out-of-the-box accurate tracking experience. The 3D digitizer measures wirelessly—giving you the freedom to measure. It doesn't have any movement restrictions compared to traditional portable CMMs with articulated arms.
"Our team at Polyga has more than a decade of experience developing the HDI structured-light 3D scanners for taking millions of 3D measurement points in one scan," said Thomas Tong, President of Polyga. "There are times when our customers just need to take a few measurement points quickly for work. That is why we decided to broaden our product line with MeasureXL. You need to use the right tool for the job."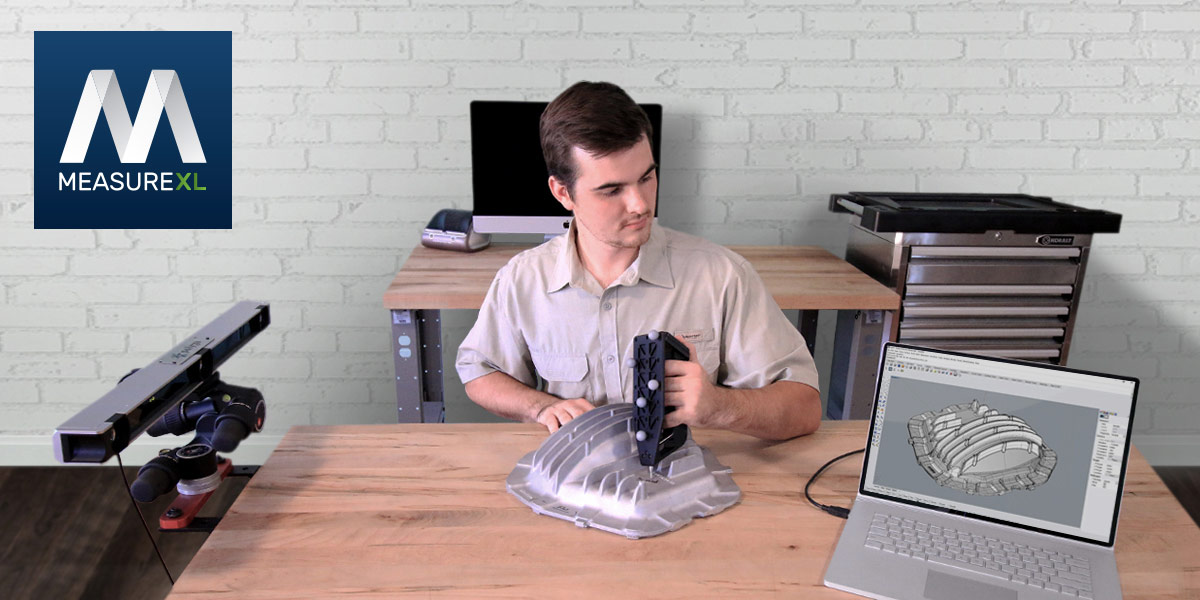 In partnership with its North American distributor, GoMeasure3D, Polyga identified a great opportunity to develop a cost-effective handheld optical CMM that is efficient at taking measurements while giving you plenty of space to work in. The portable CMM has a flexible measurement range for measuring objects from the size of a baseball to a car door.
MeasureXL comes with its own proprietary software to measure and create all types of 2D (arcs, lines, and splines) and 3D geometry, as well as angles, distances, and points. Results are displayed immediately inside the software as you probe. You can export all the data directly to IGES (CAD) or CSV (Text) for use in other software for industry applications including product design and scientific research.
"Reverse engineering packages consisting of hardware and software have traditionally been quite expensive," said Paul Motley, CTO of Measure3D. "What's special about MeasureXL is that it is fully integrated with Rhino 6 for Windows CAD modeling software to create an affordable Scan to CAD solution. Data taken from MeasureXL shows up in real-time inside Rhino 3D to create accurate CAD models in lesser time than designing them from scratch."
MeasureXL probing system is available for purchase today through Polyga and GoMeasure3D. For more information, please visit their respective websites at www.polyga.com and gomeasure3d.com.
About Polyga
At Polyga, we're on a mission to create professional 3D scanners and 3D scanning software you will actually enjoy using. We believe products with fewer features, executed exceptionally well, create the best experience. Our goal is to build simple, user-friendly tools that take 3D scan data to its full potential for a multitude of industry applications. For more information, please visit www.polyga.com.
About GoMeasure3D
At GoMeasure3D, we supply 3D scanning and measurement technologies to improve your current processes and to open up a new world of possibilities. Whether it's helping you design better products to market, implement a quality control process, convey your ideas in 3D, or simply get you the most accurate measurements in the quickest amount of time, we're here to help. For more information, please visit gomeasure3d.com.
MeasureXL was developed independently by Polyga Inc. and is not affiliated with Rhino 3D CAD Modeling Software by Robert McNeel & Associates. Polyga Inc. and MeasureXL are trademarks of Polyga Inc. All other trademarks are the property of their respective owners.
Media Contact
Pauline Tang
Polyga Inc.
Email: contact@polyga.com