Polyga Empowers You To Build An Affordable DIY 3D Scanner With FlexScan3D Software
Now makers can build a low-cost structured-light 3D scanner using the powerful 3D scanning software.
Vancouver, British Columbia (February 9, 2021) – Polyga Inc., a Canadian developer of professional 3D scanners and mesh processing technologies, today announced the availability of FlexScan3D software. It lets makers, students, researchers, and entrepreneurs build an affordable 3D scanner powered by the company's proprietary 3D scanning platform.
"Choosing the right 3D scanning software can make all the difference when it comes to building your own 3D scanner because it's the control center for capturing and processing 3D scans," said Thomas Tong, President of Polyga Inc. "With that in mind, we set out to provide an affordable version of FlexScan3D software for users who enjoy the experience of crafting their own custom 3D scanners, while providing them with a robust 3D scanning engine. FlexScan3D is known for powering Polyga's line of professional 3D scanners. The 3D scanning software now delivers the same reliability and great user experience to prosumers."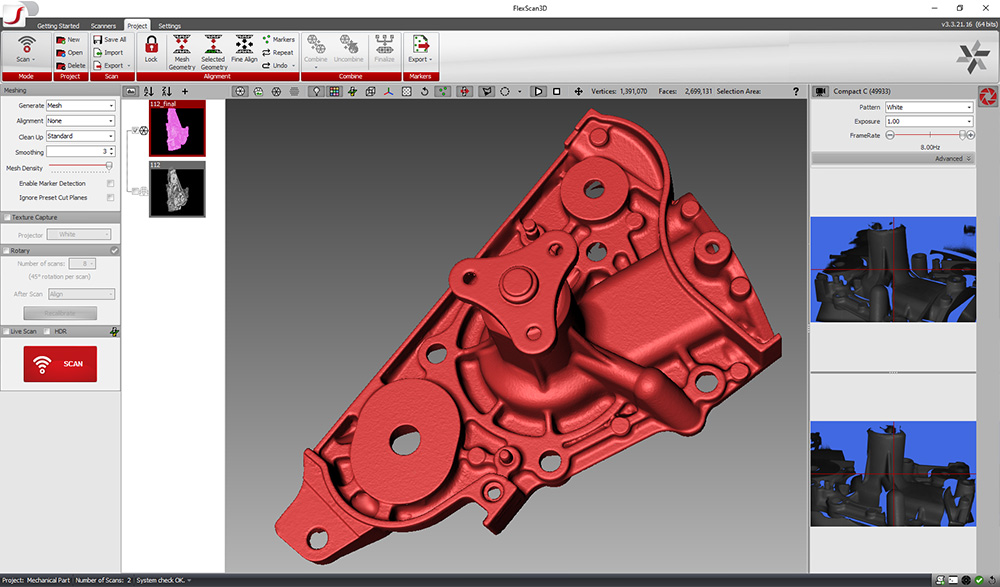 Hardware Compatibility
With FlexScan3D software, you've got the software component covered to get you started on building a DIY 3D scanner. All you have to do is source your own hardware components. The 3D scanning software interfaces with recommended off-the-shelf machine vision cameras, lenses, and HDMI projectors. If you already have existing equipment from other DIY systems, the company offers a monthly rental option to easily test hardware compatibility.
Features
FlexScan3D 3D scanning software gives you all the tools you need to reproduce high-resolution, accurate 3D scans directly from real-world objects. It's packed with advanced 3D scanning features and has a refined post-processing package. The streamlined user interface gets you the final 3D model fast.
Strong on the basics: FlexScan3D captures clean raw 3D scans to reduce the need for extensive scan data processing later on down the workflow, saving valuable time.
Advanced post-processing tools: Comprehensive tools align and merge scans into a full digital 3D model with ease.


Additional features include:

interactive hole-filling to create a watertight mesh for 3D printing
deviation analysis and 3D measurement tools for comparative studies
transform tool to precisely align your scan data into a predefined coordinate system

Ready for use: Whether you need the 3D models for 3D printing or sharing 3D content using an online publishing platform, it's easy to export them to common file formats (PLY, OBJ, STL, ASC, FBX) for use.
Availability and Pricing
FlexScan3D software is available for purchase today. A single license of the Lite version of the 3D scanning software is specially priced at $500 for non-commercial and academic use. You can purchase the standard version to gain access to all the features or for commercial use. A monthly rental option is also available. For more information, please visit www.polyga.com/flexscan3d-software.
About Polyga
At Polyga, we're on a mission to create professional 3D scanners and 3D scanning software you will actually enjoy using. We believe products with fewer features, executed exceptionally well, create the best experience. Our goal is to build simple, user-friendly tools that take 3D scan data to its full potential for a multitude of industry applications. For more information, visit www.polyga.com.
Media Contact
Pauline Tang
Polyga Inc.
Email: contact@polyga.com
Phone: +1 (604) 293-1767