Step 1


Import scan data into SOLIDWORKS

Start the reverse engineering process by importing the 3D mesh file (obj, ply, or stl) into SOLIDWORKS. The cleanup process The task of deleting unwanted scan data, hole filling, aligning, and merging of 3D scans normally takes place inside the 3D scanning software that comes with the 3D scanner. This happens before the scan data is imported into SOLIDWORKS. The mesh will serve as the reference file for building the CAD model instead of designing it completely from scratch in SOLIDWORKS.

Here is the 3D mesh of the nozzle imported inside SOLIDWORKS. It's a relatively simple looking part, but if you don't have access to 3D scan data it would be difficult to create a drawing from this as the part contains organic shapes.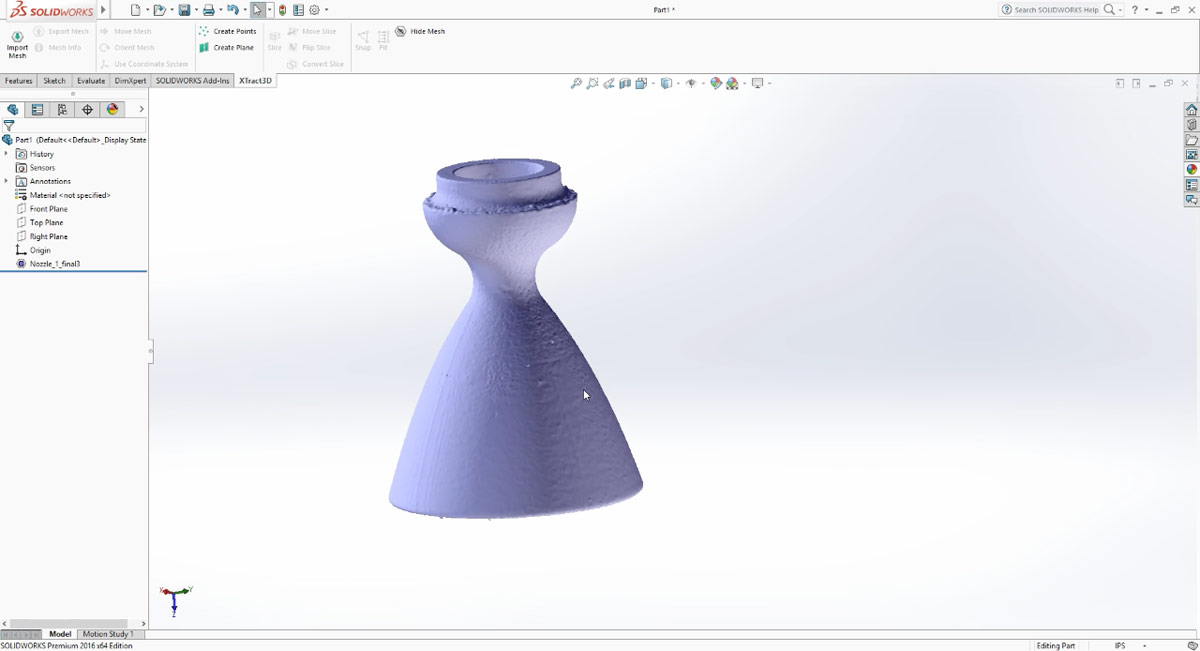 What are the benefits to reverse engineering directly in SOLIDWORKS?
Access to Feature History
If you think of a CAD file as the blueprint of the part, the feature tree provides a deconstructed view of how the part was developed. Having a feature tree make the collaboration much easier because all the background information on the part is provided in the file and it makes it more intuitive to change the design if needed in the future.
If you use a standalone reverse engineering package, you will have to export the file as STEP or IGES and import it back into SOLIDWORKS. The feature tree might not translate properly during importing to preserve the relationships.
Many engineers and designers already have SOLIDWORKS
SOLIDWORKS is one of the world's most popular CAD modeling package used by 3.2 million users. Using a plug-in such as XTract3D to complement SOLIDWORKS will be less expensive ($2,999) than purchasing a standalone reverse engineering software (which can cost upwards of $20,000) to produce the same results. As a bonus, you don't have to learn a new workflow or a new software.
Tip After Importing: Decimate Your Data
Often, 3D meshes coming out of a 3D scanner are massive in file size and contains lots of redundant data that you don't need. It makes it difficult and slow to work with when sketching the CAD model, especially if you have an older PC.
After importing your mesh, you can reduce the complexity of the mesh to decimate the data by going to Xtract3D's toolbar: Mesh Info → Decimate